Puppies For Sale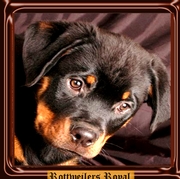 We are currently accepting deposits for our 2022 planned litters.
Please contact us for more information:
Deborah Whitsel ~ 810-240-9430 ~ rottweilersroyal@yahoo.com
Read More
We have plans for a few select breedings in 2022. Bookmark us for updates on upcoming litters announcements.
Please feel free to contact us:
Deborah Whitsel ~ 810-240-9430 ~ rottweilersroyal@yahoo.com
Thank you for considering us
Read More
A $200.00 Non-Refundable deposit is required to hold your puppy's place in line which does go towards your purchase price.
All our puppies come with a 28 month health contract against genetic illness (view our puppy contract on our FAQ page), microchip, dewclaws removed, first puppy shots, de-wormed, a vet check before delivery, a bag of puppy food to start your puppy out right, A 3 ring binder that includes: Parents pedigrees, copy of the contract, microchip information form, puppies health records, and of course our lifetime commitment as your breeders.
Here at Rottweilers Royal we know you are going to fall in love with your puppy and we wouldn't dream of requiring you to give up your beloved dog because of something totally out of YOUR control. Therefore we guarantee you a replacement pup (at half the original purchase price) or a half purchase price cash refund for any debilitating genetic illness, and you get to still keep your puppy. We also display our contract so our buyers have a clear idea of what is expected from both parties, no loop holes only our 100% guarantee for Healthier, Happier, well balanced puppies, WHY??? Because we stand behind our dogs!!!
Deborah Whitsel ~ 810-240-9430 ~ rottweilersroyal@yahoo.com