Gia von Chavis, BH, SE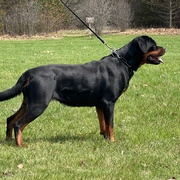 Gia is an amazing addition to our kennel. She has already received a V1 in her first show, and her BH, SE. We will now be heading for her Championship title. She is a prodigy of "Ausar vom Kressbach" and "Malu vom Wachberg" both champions in their own rights. We are looking forward to great things coming from this beautiful girl.
We will be breeding Gia in 2023 so bookmark us for litter announcements.