2012 UKC Annual Premier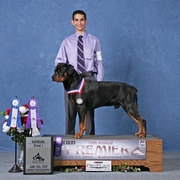 The 2012 UKC Annual Premier Dog Show was awesome. It was such a thrill to be there among so many wonderful examples of all the breeds.
Zeus and Niko showed very well for their first premier. And although they did not place in their class, it took a lot of work and dedication to get this far and we couldn't have been prouder of either one of them. They were receiving compliments everywhere the two of them went…..they are truly a magnificent team. Niko and his family have worked so hard to get to where they were today and it was an HONOR to share the experience with them. Niko, Zeus and their whole family are WINNERS in our hearts.
Later on that weekend Niko and Zeus took "Best of Breed" and then "Best of Group" there has not been a Rottweiler who has taken BOG in a very long time.......This was an awesome win for our breed and our Royal Family Zeus and Niko, Congratulations!!!
We are also, planning a breeding between "GRCH Royals Zeus Vom Rouk Haus" and our "Roxy von den Dreibergen" in the Spring of 2013 we are so excited about this breeding as we are sure it will produce some phenomenal puppies.