Randy & JoMarie Writes: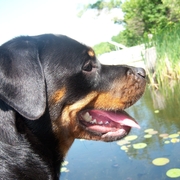 Hi Debbie and Frank:
We are so glad we found Rottweilers Royal! We've had our puppy, Alley, for almost a year now and couldn't be happier! She loves people and knows how to be gentle with children. People are always commenting on how Alley is so friendly and beautiful. She was easy to train and is the most loyal and loving dog we've ever had! Your knowledge of and genuine love for the breed is definitely apparent! We love our puppy so much and are so happy to have her as part of our family!
Thank you so much!
Randy and JoMarie