Redwood Krest's Orso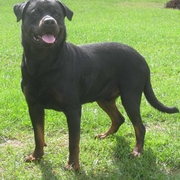 Redwood Krest's Orso
2008 NIRK NorCal Regional Sieger Show:
Judge: Joeri Goedertier:
"Full dentition. Scissors Bite, 2 Testicles. Very Big. Very Good In Type. Very Nice Head. Medium Size Ears. Good Stop. Wide Muzzle. Dark Eyes. Excellent Dark Mouth Pigment. Very Good Chest Proportion. Very Good Bone Strength. Very good Top and Excellent Bottom Line. Good forechest. Good Angulation in Front and Rear. Natural Tail Carried Correctly. Nice Color Marking. Somewhat Muddy on Face. Strong Powerful Movement With Very Good Reach and Drive in front.
Contact Us: Deborah Whitsel ~ 810-240-9430 ~ rottweilersroyal@yahoo.com