Mike & Sheri Write: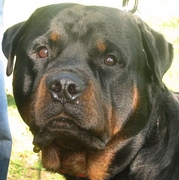 Hi Debbie & Frank:
We wanted to send you a few pictures of our baby blue - Royal's Blued Steele that is!! He is such a beautiful boy and has the most wonderful personality! We can't believe that he is over a year old now. It seems like only yesterday that we were coming up on the weekends and watching the puppies grow. We get compliments about him everywhere we go - and he goes everywhere with us. He is so smart and continues to impress us everyday. He gets along really well with his brother and sister (our cats, Molly and Toby) and to think we were worried about that.
He is a beautiful, sweet natured boy that loves to play and he loves everyone. He's about 120 pounds and looks just like his Daddy, he has Alf's black eyes and head structure. He is truly a member of our family and we adore him.
We sure hope we can get together sometime as we would love for you to meet him.
Mike & Sheri